The Ercoupe Allows the Disabled to Fly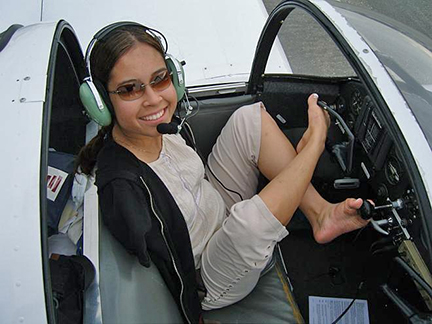 Fred Weick designed the Ercoupe as a safe airplane. One of its safety features was that it was two-control as opposed to the more common (even today) three-control. By eliminating the rudder pedals, Weick tried to reduce a common type of crash which occurred when the pilot misused the controls at a critical point in the flight (over controlling on the base to final turn resulting in a spin).
A unintended result of this accidental universal design was that people who did not have use of their legs could fly Ercoupes. This article in the May 17, 1971, Sarasota Herald-Tribune describes an Ercoupe owned by some of the members of the Wheelchair Pilots Association of Sarasota.
One early disabled pioneer was Alverna Williams who lost both her legs in a streetcar accident as a toddler. Nevertheless, she learned to fly and became the first disabled pilot to be licensed by the FAA.
About twenty years ago a group of American aerobatic pilots put together an Ercoupe for Vitas Lapenas, a Lithuanian competitor on the Russian aerobatics team who lost a leg in an airplane crash. The Ercoupe was given to Vitas and shipped to Lithuania.
Kim Blackseth currently flies an Ercoupe modified to allow him to pull his wheelchair into the baggage compartment. Here is a video of his first flight
Perhaps most impressive is Jessica Cox, who was born without arms. She flies using only her feet and is writing a book, Flying with My Own Two Feet, about her experience.